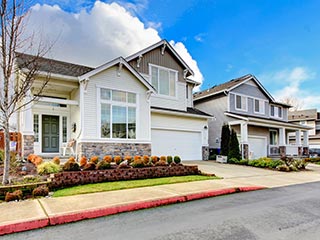 There is only one Garage Door Company in Libertyville that offers same day service and guarantees excellence as well and that is - you guessed it - us. Our technicians are experts in their field and carry replacement parts of the highest quality with them, in order to complete any task on the spot.
A Team You Can Trust
Our technicians are dedicated to providing you with the best service possible. That means that not only will we accomplish any necessary task to the best of our abilities, but that we will do everything within our power to make the overall experience a very pleasant one for you. We know that the reason you're calling is most likely because something broke or is malfunctioning, which is inherently an inconvenient situation for you. That's why we want to do whatever we can to elevate the situation into a positive one. We want you to look back and remember how efficient and productive we were, not how annoying it was to have to deal with the problem.
You Name it, We Can Do it
There is a whole plethora of things that can go wrong with your garage door, as these types of systems are comprised of many moving parts that are under a lot of stress on a regular basis. Not to worry, though. You can always rely on our team to handle whatever the situation throws at us. No problem stands a chance against our skill, experience, and wit.
Only The Best Products
Our company works with all the main name brands, from Genie and Liftmaster openers to units made by Sears and Craftsman. We'll be happy to help you find the perfect model for your home, taking full consideration of a variety of factors, such as how close your garage is to your bedroom, what type of material your door is made of, what new safety and security features may be worth investing in, and what are the weather conditions in your local area.
Choosing The Perfect Door
The type of door you get, and the material it will be made of, will influence the curb-appeal of your home, as well as its security and insulation levels. Wood, for example, is beautiful to look at and possess great insulation qualities. Steel is very durable and can increase the security of your home, while aluminum is very light and doesn't require any special maintenance. Each material has different benefits and disadvantages, and our experts can help you understand them all.
Contact our experts at Garage Door Repair Libertyville today for any related need.
We're The Best Service Provider in All Of Illinois:
Emergency Services Available
Highly Skilled Technicians