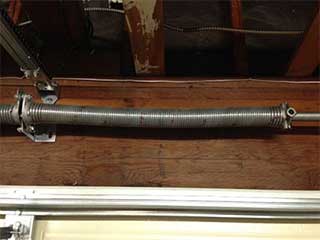 Your garage door springs should only be replaced and maintained by highly trained professionals. If your extension or torsion spring is damaged or is malfunctioning in some way, it's always best to let someone with years of experience handle its repair. These components can cause a severe injury when they break or if they are mishandled.
The Danger Of Springs
Springs are in charge of providing a counterbalance to the weight of your garage door panels. That means they are under a lot of tension at any given time and must be treated with extreme caution. When they break, they can whip around and cause lacerations to any person standing nearby. Unless you are a professional garage door spring repair specialists, you should never try to handle these dangerous components. Instead, you simply need to give our team a call.
Spring Adjustment is Complex
It is possible for your springs to stop working efficiently due to an imbalance in their weight distribution. If your door is not staying still when opened halfway or is proving too difficult to open or close, spring adjustment could be in order. Our expert technicians can perform this procedure for you without compromising anyone's safety. We specialize in replacing both torsion and extension springs and pride ourselves on being able to help homeowners avoid a lot of potential issues by making our routine maintenance services available to all of our customers.
Lubrication Is The Way to Go
By making sure your springs receive regular lubrication maintenance, you'll be able to effectively ensure their working condition remains optimal. This will make them last longer and will prevent a lot of unexpected breakdowns. Call our experts at Garage Door Repair Libertyville if you need broken spring replacement or would like to schedule a maintenance appointment.
You can also count on us for:
Part Replacement & Lubrication
Liftmaster Garage Door Openers
Oil Tempered Torsion Springs